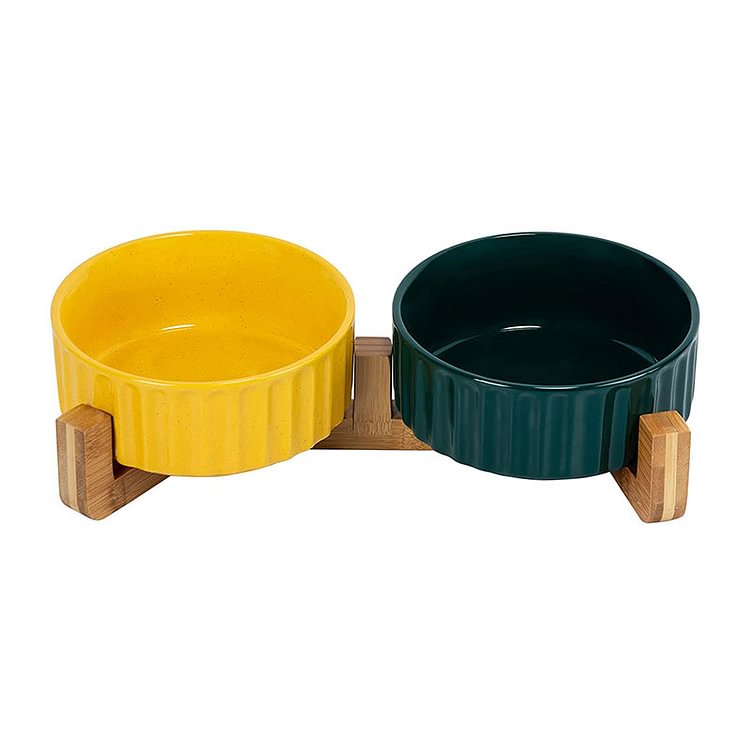 Capacity: 3 cups (700ml, 24.64 oz) capacity of each pet bowl, excellent for different breeds of kittens and puppies who need diet control due to the weight.
Safe Ceramic Material: Loaded with food-grade lead-free handmade ceramic bowls for safer use. free of cadmium as well. High-temperature resistant, non-toxic, harmless, no odors, easy-to-clean & durable.
Non-Slip Bamboo Stand: The unique bamboo stand and non-slip bowl base can effectively prevent food from spilling and keep the floor clean and tidy.
Double Bowl Design: One pet bowl for food and one for water. Each ceramic bowl comes with a unique bamboo stand, raising the dishes closer to your pet for more comfortable eating.
Warranty Policy: 100% satisfaction guaranteed and quality customer service. With 90 days product warranty, if there is any damage, please feel free to contact us. We will reply to you in time!





Made of 100% porcelain ceramic and natural wood material.
The ceramic dishes won't stain or transfer odor, and are removable for easy cleaning.
Keeping your pet healthy is crucial when selecting the bowl.


Specifications
Capacity of each bowl: L:
3.6 cups(850ml, 28.57fl oz), M:1.9cups(450ml, 15.22fl oz)
Material: Ceramic & Bamboo
Product list: 2* pet bowl + 1*wooden frame