Get your fur kids the Comfy Calming Bed today and let them rediscover good night's sleep!
 Our Calming bed was designed to help with anxiety for your Adored One.
 Use Code "BED20" For 20% OFF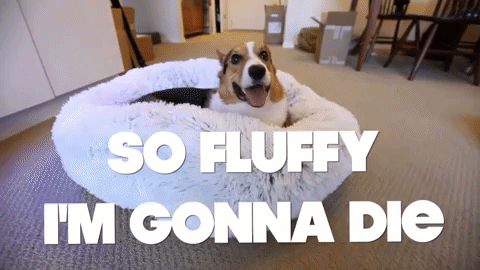 Proven to Ease Anxiety
Our Calming bed can help relax and ground your fur kids.
This concept is known to therapists, who have been using it for decades to help ease anxiety.
The raised rim creates a sense of security.
And activate the nervous system in a positive way which allows your furkids to calm down faster,
relax more easily, and sleep more soundly.


Extra Comfort
Ideal for pets who love to curl up!
The raised rim provides head and neck support,
while the super-soft filling offers joint and muscle pain relief.

Give The Dog A Space
Let the dog has an independent and safe space,
which can completely relax and rest more securely.


Relaxing Limbs
There is a comfortable and safe little world that allows the dog to fully relax the joints.




The Temperature is Just Right
A good mattress can provide a comfortable temperature for sleeping in the four seasons,
and it is warm in winter and cool in summer.




Cleaning Dog Hair is Easier
When the dog sleeps over and over, it will inevitably shed hair,
let him sleep where he is concentrated, and you will be better cleaned up.




Ultra Soft Vegan Fur Fabric
is made from ultra soft vegan fur. It is one of the comfiest materials.
And is what baby blankets are made from! Its long fibers are soft durable, and machine-washable.




Tips:
You may find that upon opening the package, our calming bed will seem to feel flat. If this is the case, please follow these steps below:
opening the package, give the bed a good shake to restore its original shape and fluffiness
With your fingers, pull the fibers apart on the outer rim of the bed to open them up
To open the fibers up further, throw the bed in the dryer for 10 minutes. Tumble dry, low heat. You can also leave the bed to dry in the sun for 3 to 5 hours to get a fluffy touch.
SIZE CHART:



| | |
| --- | --- |
| Recommended Sizes |  Estimate only |
| 40cm/15.75in | Up to 5 lbs / 2.3 kg |
| 50cm/19.69in | Up to 15 lbs / 6.8 kg |
| 60cm/23.62in | Up to 25 lbs / 11.3 kg |
| 70cm/27.56in | Up to 35 lbs / 15.8 kg |
| 80cm/31.5in | Up to 45 lbs / 20.4 kg |
| 100cm/39.3in | Up to 55 lbs / 25 kg |
We also recommend you measure your dog when it curls up, you should then be able to get an indication as to which size is perfect for your dog.
Please, when making a decision take into consideration your dog's weight and size. Please order a size up for more room if this is what your dog prefers. Please allow 2 - 3cm error.