Details:
Ergonomic Design Bathing Tool, Make Bath Time Happier for Your Furry Kids
Our innovative sprayer and scrubber in one can help you reduce the stress of bath time for both you and your pup.
Simple, One-Handed Operation
The innovative click on/click off design makes it easy to bathe your pet in the same way you would pet them with one hand, and always have the other hand to keep them under control.


Adapters Included for Indoor and Outdoor Use
In the shower or outside with the garden hose, we have you covered too! Adapters are included in each and every Aquapaw along with simple instructions to make setup as easy and fast as possible.
Sprayer AND Scrubber in Your Palm
Water sprays from rubber scrubbers in your palm, allowing you to soak, scrub, and rinse your pet by injecting water deep into their fur.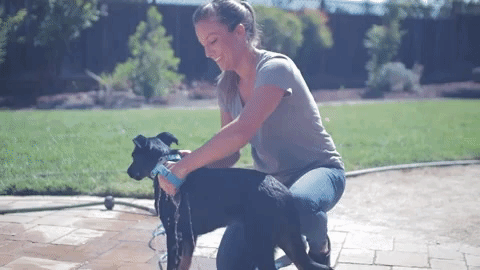 Details:
[product]: pet wash dog artifact
[Material]: Silicone + Hardware + ABS
[single weight]: 390g (including color box)
[Length]: 2.5 meters
product instructions:

1. Unpack and confirm that the accessories included in the package are complete;

2. Close the product water pipe valve after taking out the product;

3. Select the appropriate faucet adapter, the large end is inserted into the tap water outlet, and the thin end is inserted into the interface of the product water pipe;

4. Turn on the tap switch, put on the glove and then open the product water pipe valve, the water will be sprayed from the center of the glove palm;


5. Gloves are attached to the pet hair for back and forth massage.