Give your pet the best bath experience
Imagine how relaxed your pet will be with cool water streaming down its body
as you gently scrub it with this soft Pet Bath and Massage Brush. It's time your little doggie goes to the spa!
This 2 in 1 bath & massage brush helps you save precious time, shampoo and effort.
The soft silicone bristles reaches till its' skin to thoroughly clean its fur,
while also applying a great massage to stimulate your pet's blood circulation.


2-in-1 Bath and Massage Brush
This pet shampoo dispenser grooming brush can provide a quick
and thorough washing of your pets' coat as well as massage their skin to improve blood circulation.
A gentle massage can also stimulate the pet's skin to produce natural oils so his skin is kept smooth and shiny.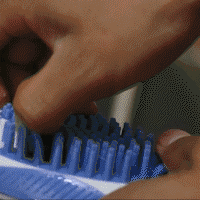 Convenient and Easy for Use
With this brush, you will no longer have to clumsily struggle with opening a shampoo bottle with your wet hands.
It squirts out shampoo at the press of a button.
Simply dilute the pet shampoo beforehand and pour it into the hole of the brush.
Then, press the top to dispense shampoo to your pet's fur coat mid-wash.
Not only will this make it more time-efficient, it will also save on shampoo by generating more foam.




How to use
Remove plastic cap, pour the pet shower gel in, dilute with water, replace lid and shake.
Press button at the back of the brush when you wish to dispense shampoo.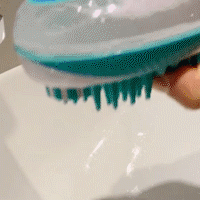 Ergonomic
The ergonomic shape contributes to comfort and ease of use, which reduces wrist and hand strain.
It's material is also anti-slip, which will help you calibrate your force well so your pet is always comfortable.


Wide Applications
This pet bath & massage brush can be used for both long or short haired dogs or cats of all sizes.